Battery Testing and Analyzing – What Should A Qualified Battery Actually Be?
As the demand of battery repairing is on the rise, and battery safety performance became global concerned, we have implemented a series of tests and analyses towards this hot topic.
Five Signs You Need to Replace Your Battery
For those low quality batteries, it is not durable, or even dangerous. Even if you use a high quality battery, it will inevitably degrade over time and lose some of its charge capacity. How do you know when it's time to replace your battery? Here are some signs that you have a dying battery.
1. The phone drains fast
2. Phone or battery overheated
3. Cliff-like power drop
4. Battery volume indication error
5. Battery swollen
Causes of Above Mentioned Issues
There are many reasons why the above problems spring up. Here some primary causes are summarized.
1. Battery aging
2. Self-consumption increasing
3. High temperature and power consumption caused by high internal resistance leads to non-durable battery power
4. Battery volume indication error
5. Low quality materials and improper use result in poor battery charge and discharge reverse performance, which finally leads to short battery cycle life
6. Internal chemical reaction caused by high temperature produces gas
7. Unmatched battery and phone leads to the results that the phone cannot turn on or display normally
Harm Effects of Low Quality Battery
Since the battery related accidents frequently happen, the effects of low quality batteries have emerged gradually. Moreover, battery life became one of the biggest pain points for mobile users these days. Will the faulty battery affect the phone performance? Will these batteries explode in the high temperature environment? A step increasing number of people are struggling in these problems.
1. Small capacity, not durable
2. Short battery cycle life leads to a faster charge decay, so that the batteries need to be replaced frequently
3. Battery volume indication error, insufficient discharge, and cliff-like power drop may lead to auto power-off
4. High internal resistance increases the heat and power consumption, thus the increasing temperature bring potential security risks
5. Protection start-up failure caused by poor performance protection board may result in battery damage, smoking, fire, explosion
6. Low quality protection board may cause identification failure, connection failure and power indicator error
7. Protection board temperature measuring error makes the phone unable to have accurate response to the temperature changes, thus damaging the phone
 Our Standards
After strict tests both in physical and electrical performance, here are the requirements of a qualified replacement battery for iPhone 6s: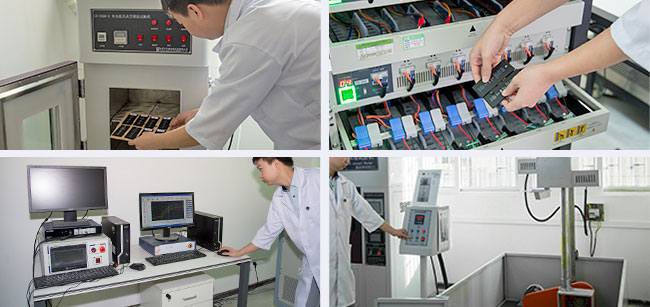 | | |
| --- | --- |
| Appearance | Clear print, smooth appearance and correct labeled data |
| Size | Thickness:2.9±0.5mm   Width:33±2mm   Length: 96±2mm |
| Weight | 26±2g |
| Capacity | 1715mAh (≥95%) |
| Voltage | 3.8V (≥95%) |
| Cycle Life | After 500 cycle times, the capacity can still reach to 65% |
| Internal Resistance | ≤160mΩ    The smaller the better |
| Cycle Times | Cycles of the new battery should be 0 |
| Protection Board | Offer timely protection for the situations of overcharge, over-discharge, overcurrent and short circuit |
| Accurate battery volume indication | No insufficient discharge, cliff-like power drop or power display failure. The battery will not fire or explode in extreme situations |
Low quality batteries do have bad effects on your phone, even your health. Treat it carefully when you decide to replace your battery. While cell phone batteries have plenty of suppliers, their performances can be variable. How to choose the high quality batteries? Please stay tuned for detailed phone battery testing procedures and results.
Note: Batteries are classified as hazardous waste. Please do not discard or mix them with other trash. They are suggested to be sent to the appointed reclaim areas.
Now we will demonstrate the detailed production process and test procedures. Top quality batteries come from excellent materials, advanced automation equipment and strict inspection&test standards. In the top-level factories, phone battery is usually carried out on highly automated equipment, with top quality materials applied. However there are still many smaller manufacturers who use manual assemble methods or poor materials, that is why the batteries in the market vary greatly. What should a complete battery production process be?
Production Process
Battery appearance inspection is a common but easy way to inspect your phone batteries, but it is not always work, lacking precise values and results. Some battery failures are not so easy to spot with naked eyes. However, strict test is necessary for the lithium batteries to ensure safety and quality. Here we will demonstrate the professional and complete test procedures. The test can be divided into three parts: Appearance Inspection, Basic Performance Test and Physical Performance Test.
Appearance Inspection
Appearance Inspection: breakage, paint loss, crack, corrosion, labeled data
Basic Test Methods and Procedures
Test Items
OEM
AAA
A
B
#1
#2
#1
#2
#1
#2
#1
#2
Capacity
1687
1707
1700
1694
1698
1693
1613
1559
Average Voltage
3.66
3.65
3.62
3.60
3.63
3.61
3.52
3.49
Internal Resistance
75
80
120
123
104
101
146
143
Cycle Times
0
0
0
0
0
0
0
0
Overcharge
OK
OK
OK
OK
OK
OK
OK
OK
Overcurrent
OK
OK
OK
OK
OK
OK
OK
OK
Over-discharge
OK
OK
OK
OK
OK
OK
OK
OK
Short Circuit
OK
OK
OK
OK
OK
OK
OK
FAIL
Battery Gauge
OK
OK
OK
OK
OK
OK
OK
OK
Physical Performance Test Procedures
Further physical performance tests are conducted in the extreme situations, so as to verify if the battery will bend, deform, fire and explode in the different simulative environments.
1. Low Pressure High Altitude Simulation Test
This procedure is to test the air transportation safety performance of the battery at a pressure under 11.6kPa.
Result: After 360 minutes, all the samples perform normally, no fire or explosion. /The samples do not explode or catch fire.
2. Temp. & Humi. Test
This test is to verify the temperature adaptability of battery, processed at a extreme temperature of 72±2℃ and -40±2℃.  Batteries are stored for 6 hours at 72±2℃, then 6 hours at -40±2℃, for a total of 10 cycles.
Result: After 10 cycles, all the samples perform normally. No bulge, fire or explosion./ The samples do not explode or catch fire
3. Vibration Test
Vibration test is used to verify the battery anti-vibration performance during the transportation and usage. The test is a Sine Sweep: 7Hz – 200Hz, 15 min/sweep, 12 times, 3 hours in total
Result: All the samples perform normally
4. Capacity Test
This is to test the actual capacity of battery
Result: OEM is the top performer. AAA Grade and A Grade come second, and the values are very close. B grade batteries are much worse than the above 3 kinds.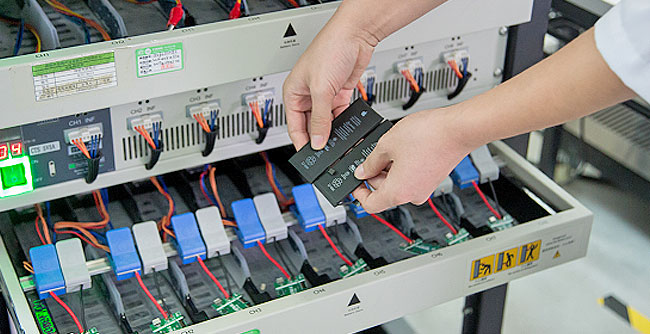 5. Impact Test
Impact test simulates the impacting and hitting of the battery. Apply 561.5cm/s2 acceleration impact to the battery to test if it will be crushed or distorted when overload.
Result: B grade batteries have problems of bend and deformation. Other samples perform normally.
6. External Short Circuit Test
This test simulates an external short circuit to the terminals of the cell or battery. When the temperature go up to 55℃, turn on the switch to make it short circuit, then check the battery to see if it will explode.
Result: After 2 hours standing, all the samples perform normally. No fire or explosion. /The samples do not explode or catch fire.
7. Drop Test
Drop test is operated at a height of 1.2 meters to test the battery hardness and anti-deformation capability.
Result: B grade batteries have problems of bend and deformation. Other samples perform normally.
8. Crush Test
Each battery is applied with a crushing force of 1.3kN for 0.1s. After 30 minutes, check the battery to see if it will fire, explode or deform.
Result: All the samples perform normally.
9. Thermal Abuse Test
The purpose of abuse testing is to verify that the battery is not a danger to the user either by accidental or deliberate thermal abuse under any conceivable conditions of use.
After the temperature rising for 26 minutes, hold at 130℃ for 10 minutes, check the battery to see if it will fire or explode
Result: All the batteries have problem of bulging, no fire or explosion
10. Burning Test
The purpose of this procedure is to test the safety performance of the battery. Put the battery into the machine, ignite it to test if the battery will explode, and if the ashes are in clumps.
Result: After 30 minutes, batteries burned completely, no explosion, with clumpy ashes left.
Every battery from us has to pass through rigorous basic performance and physical performance test, and only qualified products can be delivered to the warehouse. This is to ensure every battery you get is superior, safe and reliable.
Certifications
Our business has been founded on the belief "Quality Above ALL" for years. The batteries from us passed a series of international authoritative certifications, such as UL, CE, FCC etc..
From all the above test results and analysis, we can draw a conclusion that OEM, AAA and A grade batteries are much better and safer than the B grade. Now that there is a shortage of OEM batteries, the cost-effective AAA and A grade batteries undoubtedly become your first choice.
Every battery from our company has been rigorously tested. Our QC and technical team can offer the right solutions for your needs and advise the best but economical battery replacements. If you have any questions and demands, please feel free to contact us.