OCA Film for LCD/LED Screens – What do You Need to Know?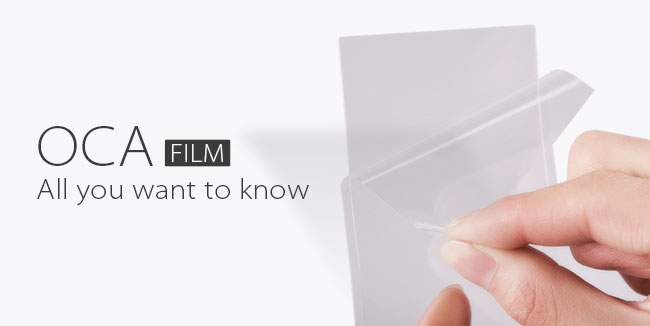 When you do the iphone broken LCD refurbishment, you need to use these OCA adhesive glue. Visual appearance of OCA Optical Clear Adhesive.
Brief introduction about OCA adhesive glue:
1) So far in the market of cell phone broken LCD repair and refurbish industry, there are different types of OCA glues custom made for iPhone, iPad, Samsung, LG, Motorola, Sony flagship models.
2) OCA optical clear adhesive film is also one of the important raw materials when you produce the mobile phone touch screens.
3) The OCA Tape is a highly-specialized film that offers excellent clarity, light transmitting and adhesion to a wide variety of transparent substrates. OCA Optical Adhesives are usually applied in transparent applications, such as in smart phone and tablet PC LCD displays, touch panels and other devices requiring an optically clear bond.
4) These OCA Clear Adhesive Films perfectly fit with your device. They always are cut to the suitable size before applying such as LG G2, G3, G4, Motorola Moto G2, G3, G, Sony Z4, Z5, Samsung Galaxy S6, S6 edge, S7, S7 edge and so forth.
5) We highly suggest professional installation. We won't be responsible for any damages to your cellphone/mobile phone that you may cause during the replacement for your defective phones.
6) Easy to remove with not glue residue by using the special OCA  Adhesive Remover.
Now let's get a more comprehensive understanding and view of the OCA  Adhesive Glue in the aspect of dimensions, property and function of different manufacturers which are Mitsubishi OCA and China Made OCA. And then when you do broken LCD refurbishment, you know how to choose OCA for iphone broken LCD repair.
OCA Structure
Size Inspection
OCA Type
Thickness
Mitsubishi 250um
Mitsubishi 200um
China Made 250um
Whole OCA
0.49mm
0.44mm
0.37mm
release film 1
0.10mm
0.10mm
0.05mm
OCA
0.25mm
0.20mm
0.23mm
release film 2
0.05mm
0.05mm
0.09mm
protective film
0.09mm
0.09mm
/
| | | | |
| --- | --- | --- | --- |
| OCA Type | Mitsubishi 250um | Mitsubishi 200um | China Made 250um |
| Length | 107.07±0.25mm | 107.07±0.25mm | 107.35±0.25mm |
| width | 61.07±0.25mm | 61.07±0.25mm | 61.14±0.25mm |
Visual Inspection
You can see that, China made OCAs sometimes have problems of smudges, dots, excessive glue, air bubbles, creases and so on compared with Mitsubishi OCAs.
Function Test
1) Light Transmittance Test
The value of visible light test should be greater than 90 in terms of qualified OCA glue.

Mitsubishi 250um                                                                        China Made 250um
2) Release Film Test
Stick the corner of the OCA protective film with easy peel/tear label and see if it can rip off easily. Mitsubishi OCA outperforms China Made in the test.
China Made 250um                                                            Mitsubishi 250um
3) Adhesion Test
Stick the OCA Optical Clear Adhesive film to one clean cell phone outer glass lens to test if it has strong stickiness and is easy to tear up after fitting.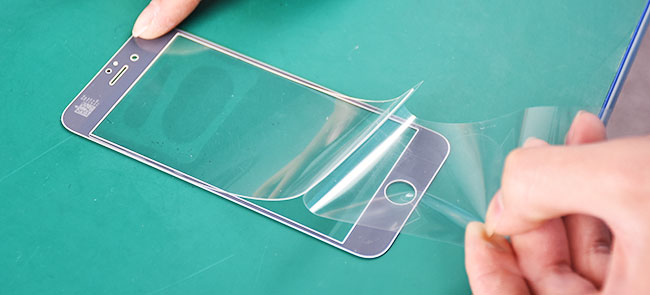 4) Laminating Test
In the process of LCD screen display laminating and outer screen glass laminating, we can easily check if the OCA can be easily laminated. There are no obvious difference between Mitsubishi OCA and China Made OCA in the effect of Laminating.
5) Bubble Removing Test
After 10 minutes bubble removing process, check the two types of phone screens. Both Mitsubishi and China Made OCA are in good condition.
6) Bubble Returning Test
After a period of time, check the OCA to see if it has air bubbles in it. The China Made ones sometimes have small air bubbles on both sides of LCD assembly after some hours.
7) Repair Test
Separate the LCD display with machine, then tear up the OCA glue manually to see if it can be removed easily. Mitsubishi OCA can be torn off completely by hand, while China Made OCA can not.

From the tests above we can draw a general conclusion: Mitsubishi OCA is better than the China Made ones in term of quality. In the market, most of the OCAs are made by Mitsubishi. In fact, there are many standards for the OCA film. You need to test them and find a best ones when you do the phone broken screen refurbishment.