How close is Shenzhen to Hong Kong?
From the following administrative map, you will see how big Shenzhen and Hong Kong are.
As you can see, Hong Kong is actually smaller than Shenzhen in area. Shenzhen has over 12 million population, much more than Hong Kong.
How many districts and towns in Shenzhen?
From the administrative maps below,  we can divide Shenzhen into 2 parts, one part is the downtown area, the other part is the outlying industrial area.
There are mainly 4 downtown districts, Futian, Luohu, Nanshan and Yantian.
Futian is now the administrative and business center of Shenzhen,  Luohu is the financial center, Nanshan is the high-tech center, and Yantian is the logistics center.
There are mainly 19 towns in the outlying industrial area, we can also divide the outlying industrial area into 2 districts, one is Baoan District with 9 towns, the other one is Longgang District with 10 towns.
How many metro/subway lines in Shenzhen?
There are more and more subway lines in Shenzhen,  it is a very economic and fast way to take a subway and plus a little bit Taxi.
Here is a map that shows you the subway lines in Shenzhen.
All the lines here, Line 1, Line 2, Line 3, Line 4 and Line 5 will be all fully open by the end of June 2011 because of the universiade.
Line 1 is Luo Bao line from Luohu to JiChangDong (East of Airport), Line 2 is She Kou line from Chi Wan to Xin Xiu, Line 3 is Long Gang line from Yitian to Nanlian, Line 4 is Luo Hua line from Futiankouan to Qinghu, Line 5 is Huan Zhong line from Qianhaiwan to Huabei.
As you can see from the map above,  the area between the metro station Hua Qiang Lu and Hua Qiang Bei is where the electronics market located. The area between metro station Lao Jie and Dong Men is where Dongmen Commerical Cycle is located.
Here are a map of metro lines in the future of Shenzhen.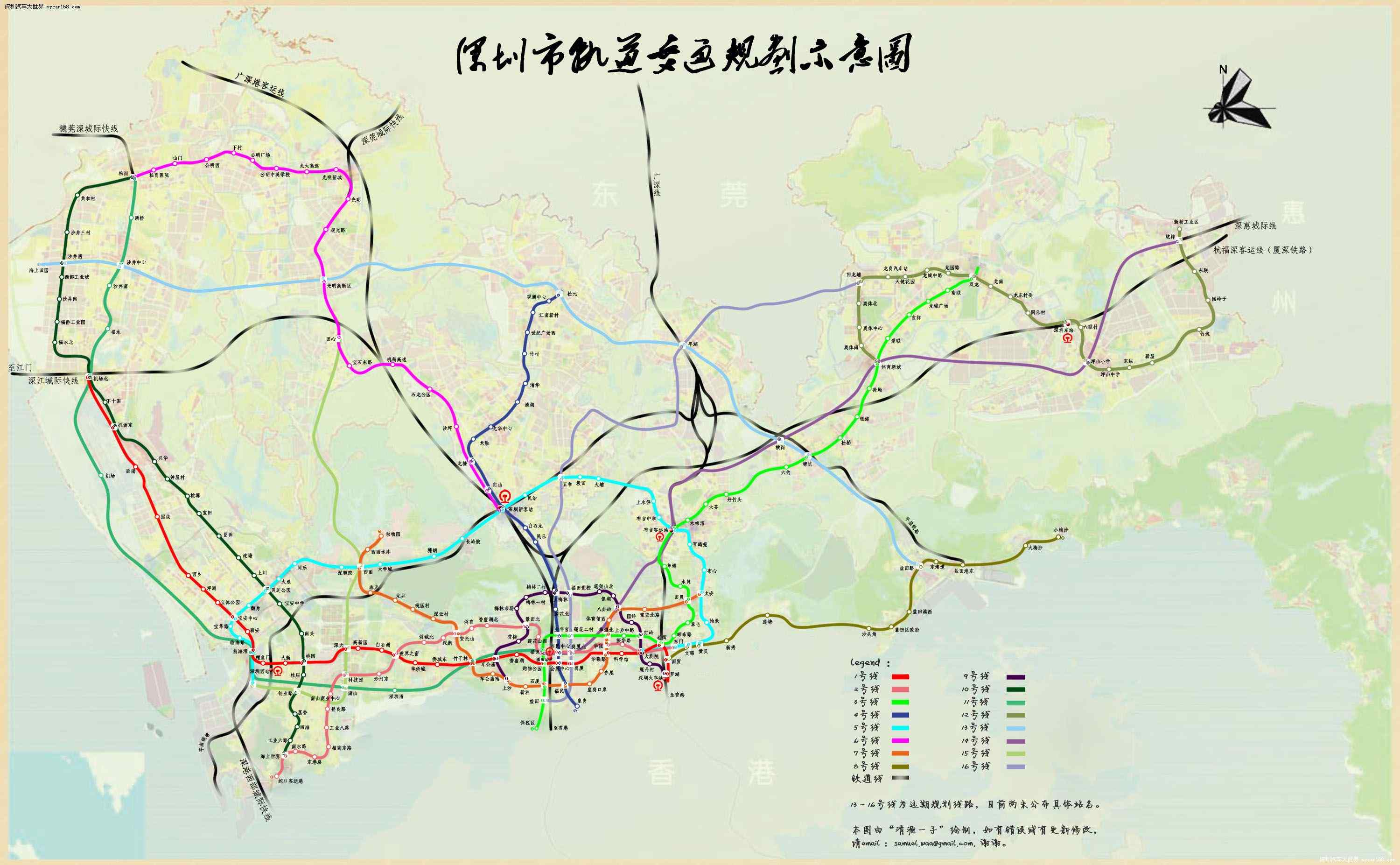 This is the timetable for Line 1 currently.
This is another metro map of Shenzhen in Chinese.
As you can see, if you want to go to the electronic markets, you can stop at either Hua Qiang Lu,  Hua Qiang Bei or Hua Xin.
How will you spell "Shenzhen"?
You might want to spell Shenzhen as "Shenzen" or "Senzen".